Do not miss Bucharest music festivals and concerts in summer 2016!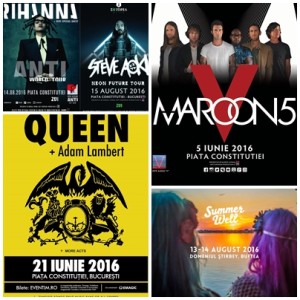 Summer 2016 looks amazing for now.
If Bucharest only welcomed a few big names in concert since the communist regime has ended (Michael Jackson, Madonna, Shakira, Robbie Williams), this year a surprising number of internationally renowned names will be performing live for the very first time in the capital.
The first big concert takes place in June: Maroon 5 is coming on the 5th after touring some other cities in Europe.
Just one day later (how will we survive?!), The Hollywood Vampires aka Alice Cooper, Joe Perry and Johnny Depp will mostly sing covers of songs by other famous bands.
Granting our poor mortal hearts a two-week break, Queen and Adam Lambert will feature nostalgia and sweet music to our ears on the 21st of June.
July 7th will bring back to life the King of Pop, Michael Jackson. Jackson's entire crew, from his sound engineer to his choreographer are coming back to Romania, as the King required in his testament, to bring him one last tribute.
Rock the City takes place between the 29th and the 30th of July, having Muse and Iron Maiden as headliners. Both of these bands have already been to Romania, but you can never listen to too much rock!
The beginning of August is quiet in Bucharest as massive amounts of potential concert-goers will be occupied with the Untold Festival in Cluj.
When they get back however, Summerwell festival awaits between the 13th and 14th of August. The festival is as indie as you can get. The Neighborhood, The 1975, Years & Years and Hurts are amongst the performing bands.
And last, but certainly not least, the most awaited trilogy of concerts, called ZUtopia, are the concerts of Rihanna on the 14th, Steve Aoki on the 15th and Sia on the 17th of August. Rihanna is announced to perform with a special guest, and fans are hoping it's Drake.
Maroon 5, Queen and Adam Lambert, the Michael Jackson tribute, Rock the City and ZUtopia will all be taking place in the Constitution Square which is right in front of the Palace of Parliament, the second largest building in the world after the Pentagon.