8 foods that are not to miss whilst in Bucharest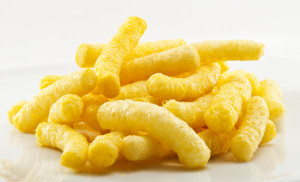 Some people do culinary tourism and look for the most sophisticated restaurants in the city. They usually get teeny tiny portions for not-so-tiny prices.
For the rest of us, who just want to try what locals would eat on a normal day, for a normal price, here's a list of foods that you shouldn't miss before you leave the capital of Romania (and I'm not talking about the traditional Romanian dishes).
Supermarket goodies, found in literally any supermarket or minimarket:
ROM
This is a chocolate bar filled with rum cream. You can find it in any supermarket for more or less 1 leu. Ask any expat, and they will tell you ROM tastes like home.
Eugenia biscuits
As you might soon notice, Romanians have a taste for rum in their desserts. That's exactly why the Eugenia biscuits are filled with a rum-y chocolate-y filling, come in a package of 2 biscuits and are also sold for 1 leu. They are the biscuits of any romanian's childhood.
Măgura
This one costs around 50 bani (aka half of 1 leu) (yes, Romania is cheap). It's a sponge cake filled with cream and covered in a thin crust of chocolate. There are a lot of flavors and can usually be found right at the cashier desk. It's as big as two bites, so don't expect a very consistent meal.
Pufuleţi
This snack is greatly loved and rumoured to only exist in Romania. Their basic ingredient is corn, although it's hard to imagine how it gets to the Pufulete (singular of Pufuleţi) consistency. The original flavor is plain with salt, but you can get them with cheese as well. And guess what? One bag of around 400g is also 1 leu! What a surprise!
Just a heads up: all supermarket goodies are good for snacks, but not for an actual meal.
Street goodies:
Covrigi
You might have heard about these charmers, or might have seen about 100 shops if you've ever been to Bucharest. The covrigării, aka the shops where you buy covrigi, are found more often than fast foods in America. The covrig is what might be translated in English  as a pretzel – although there's a huge difference between the Romanian pretzel and any other pretzel you might have tasted. The original covrigi are with poppy and salt or sesame, but you can also find covrig dough filled with ham and cheese or even chocolate, for example. Find them on the street or in almost every. single. metro station. No exaggerating. Price: 1 leu for original, 1,5 leu-3 lei for fillings!
Pateu cu brânză/Merdenea
This one is our personal favorite. It's puff pastry filled with cheese. It might sound unoriginal, but nobody does it like Romanians do it. There is a small difference between the merdenea and the pateu: the merdenea's puff pastry is less flaky and you can taste the cheese a lot more. You can usually find them in the covrigării and if not, in the patiserii (pastry shops). Prices start at 2 lei. If you want to choose from several pastry shops, Piaţa Amzei is the place to be!
Gogoaşă
Enter the name in Google Translate and it will say 'donut'. But the truth is, the two are not alike. In Romania, the gogoşi have the filling inside and don't have a hole in the middle. They are very high in fats, so we suggest to skip it if you're on a diet, but it makes for a very satisfying dessert. The classic one is with chocolate or jam filling, but you can also get a plain one with sugar.
And now, for the queen of all street food and foods to try in Bucharest is the almighty, delicious, amazing, mouth-watering, eye-widening, stomach-tightening, absolutely-extremely-fulfilling…
SHAORMA
Although its origins are far from Romanian, the shaorma is almost as vital as water to those who live in Bucharest. You can drive by a shaormerie at 3 in the morning, and there will be a queue. It's the comfort food of everyone and the remedy to everything. Feeling hungry? Shaorma. Feeling sad? Shaorma. Have to celebrate? Shaorma. You just got fired and your wife left you? Shaorma.
Leaving Bucharest without having eaten a shaorma, preferably from Dristor Kebap, is like leaving Paris without having seen the Eiffel tower. Some people come to Bucharest to see the Palace of the Parliament, but they should come only for shaorma. It's mind-blowing if you buy it from the right place and amazing if you buy it from the wrong place.
So there you have it. 8 foods that you should try during your stay. Poftă bună!